Le Panier Condriot
Shops and services , Food shop
in Condrieu
Lezin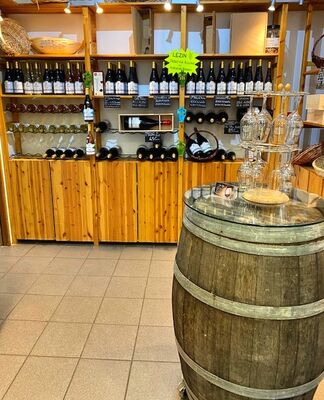 Lezin
Close by the old town centre and the Tourist Office, Le Panier Condriot is open 7 days a week. Here you can find our delicious wines, from prestigious vintages to great table wines.

We produce asparagus, new potatoes, cherries, apricots, plums and mirabelle plums. As well as our three wine appellations: Condrieu, Côte Rôtie and St Joseph.
For the rest, we work as much as possible with local farmers, which is why you can find fresh fruit and vegetables all year round!
We also work with excellent local farms (charcuterie du Pilat, cow and goat cheese, free range eggs, farm yoghurts, farm chicken...)
We would be delighted to welcome you, come and discover us quickly!
Environment

Close to a public transportation

Lake 5 km away

Village 2 km away

Spoken languages
Rates

Rates: please contact us
Monday

8:00 AM - 8:00 PM

8:00 AM - 8:00 PM

Tuesday

8:00 AM - 8:00 PM

8:00 AM - 8:00 PM

Wednesday

8:00 AM - 8:00 PM

8:00 AM - 8:00 PM

Thursday

8:00 AM - 8:00 PM

8:00 AM - 8:00 PM

Friday

8:00 AM - 8:00 PM

8:00 AM - 8:00 PM

Saturday

8:00 AM - 8:00 PM

8:00 AM - 8:00 PM

Sunday

8:00 AM - 8:00 PM

8:00 AM - 8:00 PM
Tuesday

8:00 AM - 8:00 PM

Wednesday

8:00 AM - 8:00 PM

Thursday

8:00 AM - 8:00 PM

Saturday

8:00 AM - 8:00 PM
Lezin
Lezin