GR7: Along the watershed
The GR7 crosses France in a wide diagonal from Alsace to Andorra. Along the way, it passes through numerous protected areas (Regional Nature Parks and the Cévennes National Park) and a wide variety of landscapes. A route that is much less travelled than the famous GR20 in Corsica or the GR10 in the Pyrenees, it nevertheless deserves the letters of nobility that the FFR is trying to give it back. This GR crosses no less than 4 regions and 18 departments.
It reaches the gateway to the Pilat massif at Saint-Chamond and then slowly rises towards our summits with a passage at Crêt de la Perdrix. It will continue its way via the large fir forests of Bessat and the high altitude meadows of our high plateaus. An itinerary that will suit both contemplative and sporty hikers!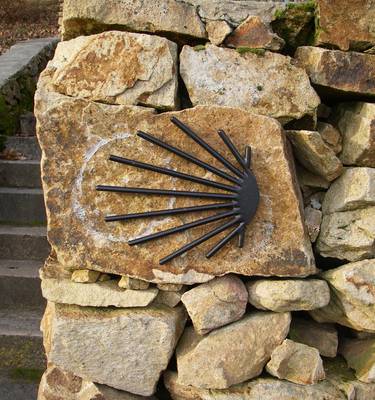 ---
GR 65: On the way to Santiago de Compostela
Pilat is located on the Via Podiensis, the most popular route of the prestigious "Chemin de St-Jacques". Linking Geneva to Le Puy-en-Velay, the path is used by many pilgrims from Germany or Switzerland who wish to reach Le Puy and later St-Jacques-de-Compostelle. The GR65 crosses the Pilat massif over 40 km between Condrieu and Le Tracol where the hiker enters the Haute-Loire.
---
GR42: at the end of the path: the sea...
Starting from Saint-Etienne, the GR42 crosses the Pilat Regional Nature Park from the West to the South-East, following the Rhone corridor and finally leading to the Mediterranean Sea at Grau-du-Roi.
It is a route full of contrasts that awaits you: Deep green valleys on the foothills of the massif above Saint-Etienne, vast mountain landscapes on our summits, then a sunny and warm atmosphere around Bourg-Argental before continuing towards other more Mediterranean regions...